Remembering Bill Nation
Bill was born at Reelfoot Lake the son of Elbert Nation a market hunter for waterfowl.
Elbert Nation was one of Reelfoot Lake's early pioneers in duck calling. Bill, being his son,
was taught from an early age about waterfowl. Bill was twelve years old when he got his first
Tom Turpin duck call. Two years later he had his own flock of tame mallards used for
live decoys. Around the 1930s live decoys were outlawed. This put an end to an era.
Bill owned Bill Nation's Camp. It was a fishing and hunting camp at Reelfoot Lake. It was
and still is located in Samburg, TN. However, Bill and his beloved wife Mildred have
passed on to the happy hunting grounds of Reelfoot Lake.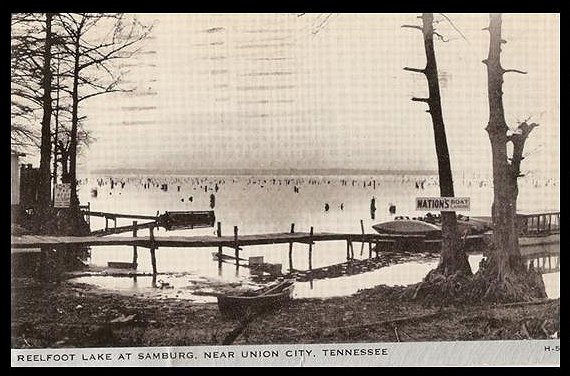 Nation's Camp was one of the few camps around Reelfoot that had a tow boat in the
early 1900s. These were large boats that were used to tow oar boats to different fishing
or hunting spots on Reelfoot Lake. Each person being towed would need to be at a specific
place & time to be towed back to the camp. Bill would arrive going down a marked trail
for the big boat to avoid all the stumps and logs. He would tie the boats together for the
long ride back to the camp. This was in the early 1900s. After WWII the manufacture of
small inboard engines became more common. The motor, a horizontal shaft engine, was
placed inside the boat with the shaft running out the back of the boat. A metal plate or shoe
as it was called protected the prop from the stumps. The boat would glide over the stumps
and was in much demand. The average speed was about 5 miles an hour, but it beat
paddling. The Wisconsin cast iron block motor was one of the better motors. Most were one
and a half horsepower to two and a half horsepower. Reelfoot Lake was full of stumps and
you had to go slow. All the guides had personal small canoe type Reelfoot boats built by the
Calhoun family and several others in the area. Tommy Alexander was also noted for making
several of these Reelfoot Lake Boats. Today they are a prize possession. Tommy Alexander worked
for Bill Nation at the camp & boat dock. However, the ones mentioned are before Tommy's time.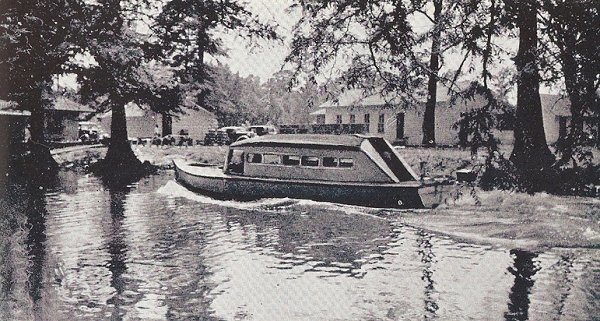 Bill Nation was another one of the great duck callers of the time and
was much sought after for a guide. In its heyday Nation's Camp was
the Mecca of the duck hunter. Most all ducks callers around Reelfoot
Lake used Tom Turpin's duck calls from Memphis or a Glodo if they
could find one. A good duck call in the hands of an expert like
Bill Nation made ducks stop in mid air. Johnny Marsh was a frequent
guest that hunted with Bill. Marsh realized that if the duck calls
were made the same, the density of the wood would make the
duck call louder or softer. Turpin's duck calls were made mostly
of soft woods and were not loud. However, in those days ducks
were more plentiful and Reelfoot Lake was the major stop for
waterfowl, a loud duck call was not needed. In November 1953 an
estimated 150,000 ducks and geese of 20 species were at
Reelfoot Lake.

CLICK image for
larger view
Marsh made some of his first duck calls and gave one to Bill to use. Bill Nation made the
comment to Marsh when Marsh presented Mr. Nation with a Cocobolo wood duck call to
try in the 1960s, "it will paralyze the ducks in the air." Bill had finally found the ultimate
duck call. The old Winchester Model 97 was the pump gun of choice, but it was soon
replaced by the Winchester Model 12. This new design was everyone's dream gun for
waterfowl shooting. It was only when steel shot came out and required for waterfowl
shooting that people stopped using it. Bill had a fine collection of Winchester Model 12 guns.
All guides had their favorite spots to hunt on Reelfoot Lake. Cutgrass for camouflage
and the Reelfoot Lake boat was all one needed to shoot waterfowl in the early days.
Waterfowl hunting was not from a duck blind structure as it is today.
In the early days of market hunting on Reelfoot Lake most people would bait an area then
kill as many ducks as possible with as large a caliber shotgun next to a small canon as possible.
A duck blind was not needed as most individuals shot from boats, stumps, or trees. Duck calls
were not needed either. When the market hunting days ended in its place came paper decoys
and loud duck calls.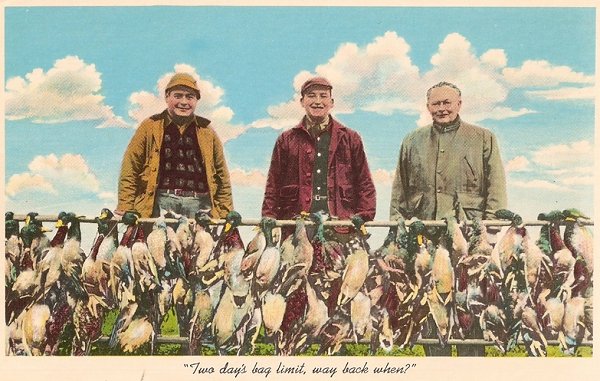 Before Bill passed away he made a recording of his duck calling. It was made on vinyl records
and also on eight track tapes. The front of the album shows Bill & Mildred Nation. Bill is
holding his trusted shotgun along with his red Aladdin lunch box. During this time all
waterfowl hunters carried a red Aladdin lunch bag. It contained a thermos along with a plastic
container for food. The deluxe bags had a place for two thermos bottles. Many a cup of hot soup
or coffee was served from these. I still have mine from those days. The recording of Bill Nation's
duck calling is a must have for every collector of waterfowl memorabilia. Bill made the recording
using his Johnny Marsh duck call. Bill teaches one the sounds and how to use the Reelfoot Lake
duck call on it. He goes through it step by step making the highball, come back call, & others.
He demonstrates how to call diver ducks with it. Every duck hunter should have or add this to
their collections. It is a classic that can never be made again.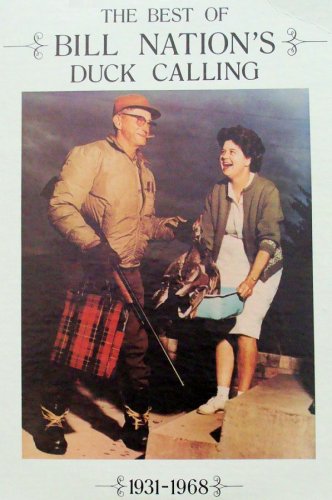 The Best of Bill Nation's Duck Calling
1931-68
Price: $40.00
includes S/H